EVERYTHING CHANGED IN AN INSTANT.
I thought I knew what was important, but one phone call sent my life into a tailspin.
Alone and afraid, I cling to the one man I shouldn't.
I was warned about him and told to stay away. "He's dangerous," they said.
But the man who could hurt me the most, gave me the greatest comfort.
"He's not who they think," I told myself.
But just like an illusion, things are never what they seem.
If you've read any previous Chelle Bliss book, you know she can write alpha males who are all mountains of sexy brawny muscles with the softest hearts for their loved ones, and Bruno is no exception.
Without giving away the whole story, Bruno is known around the neighborhood as the guy you don't want to cross anytime, anywhere. Everyone fears him, which is how he needs it to be. Except when it comes to Callie, he's there for her when she desperately needs it, and he is the one is there fighting alongside her. How can you not fall for a man who will literally break down your door and never leave? Well, that might sound a bit psychotic, but you have to read the story to understand that statement.
This book definitely gives you the feels, from Callie's fear and her initial reaction to the phone call, how she deals with her best friend, her first real interactions with Bruno and everything that goes along with the result of the phone call she got at the start of the story. Bruno isn't your typical knight in shining armor, except when it involves Callie; but he has a reason for perpetuating the negative image most people have of him (but I won't spoil that tidbit of information). But don't get it twisted: Bruno isn't dead inside, you can feel it when he interacts with Callie, and especially with his family. His family is the one that just about every neighborhood had: loud, boisterous, slightly wacky yet full of genuine love for each other.
This book is, hands down, my absolute favorite by Ms. Bliss. It's a story of love, loss, hope, redemption, and family. And because this is a Ms. Bliss story, when the sexuals happen between Callie and Bruno, it's plenty damn hot and sexy. I daresay, Callie and Bruno have become my favorite Chelle Bliss couple, even more than City and Suzy (and I FLOVED their story).
ARC provided in exchange for honest review.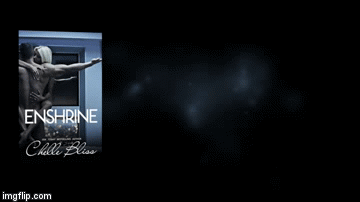 Available at the following retailers
ENSHRINE GIVEAWAY - OPEN INTERNATIONALLY


ABOUT THE AUTHOR
USA Today Bestselling author, Chelle Bliss, currently lives in a small town near the Gulf of Mexico in Florida. She's a full-time writer, time-waster extraordinaire, social media addict, and coffee fiend. She's written over ten books and has two series available. She loves spending her free time with her boyfriend, 2 cats, and her hamster.
Before becoming a writer, Chelle taught high school history for over ten years. She holds a master's degree in Instructional Technology and a bachelor's in history. Although history is her first love, writing has become her dream job and she can't imagine doing anything else.
ALSO BY CHELLE BLISS